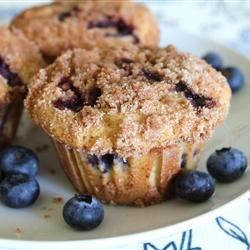 Ingredients
2 cups (500 ml) blueberries (frozen or fresh)
1/2 cup (125 ml) water
2 1/2 cups (625 ml) almond flour
1/2 tsp (2ml) baking soda
1/4 tsp (1 ml) sea salt
1 tsp (5ml) ground cinnamon
1/2 tsp (2ml) pure vanilla extract
1/2 cup (125 ml) organic honey
3 free range eggs
Directions
Heat over to 325 oF (160 oC). Line muffin pan with large baking cups.
In a small saucepan, simmer the blueberries with the water until the berries release their juice and the mixture has thickened slightly. Let cool.
Combine the almond flour, baking soda, salt, and cinnamon in a bowl.
Combine the blueberries, vanilla, honey, and eggs in another bowl.
Add dry ingredients to the wet and mix well.
Evenly fill each making cup with the batter.
Bake for 25 to 30 minutes.
This recipe was taken from "Everyday Grain Free Gourmet" by Jodi Bager and Jenny Lass. Great book to own!